From Frizz to Fabulous - our Brazilian Blow Out technique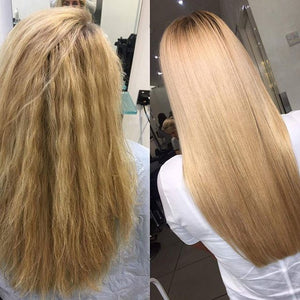 The Keratin Treatment is an innovative process that transforms the hair in its entirety. The treatment is keratin based, keratin is the primary protein of the skin, hair and nails. This natural substance gives hair the ability to return to its original healthy, shiny, smooth state.
Unlike other products available in the market, such as relaxers or the Japanese thermal conditioning, the Keratin Treatment straightens the hair without damaging or changing its texture. The treatment can be use in all hair types, including chemically treated hair (coloured, permed, relaxed, highlighted and bleached).
The Keratin Treatment is also known as Brazilian Keratin Treatment, Brazilian Straightening System, Progressive Straightening, Brazilian Blowout and Escova Progressiva among others.  This treatment is not to be confused with keratin smoothing treatments that offer a temporary solution to frizzy hair.
The application process lasts anywhere from 1.5 to 4 hours depending on the length and thickness of the hair. After product is applied, it is sealed with a hot iron which traps moisture, hydrates the hair and creates a glossy finish. Results are visible immediately after treatment is completed, clients are amazed to say the least. Hair looks healthy and youthful, it resembles children's hair.
Taking care of the hair after the Keratin Treatment is applied is effortless. The amount of time required to style hair will decrease dramatically, in some cases is wash and go. Others require some blow drying and minimum styling time. This treatment restores hair resiliency: humidity, rain or sweat will no longer affect the hairstyle. No more frizzy hair!
The results last two to five months, the treatment fades progressively as hair is washed. As clients repeat the treatment every 3 months or so, you will be able to observe the improved quality of hair grown after the Keratin Treatment was applied.
This revolutionary process was developed in Brazil, and is now available in the US, UK and other markets in North America, Latin America and Europe.
1 Response
Leave a comment
Comments will be approved before showing up.