What Nina Spotted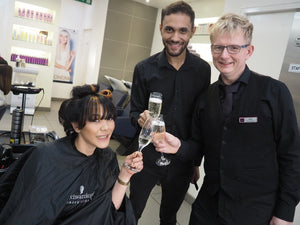 Living in the Northern Quarter sometimes keeps me from travelling outside Manchester city centre. I literally have everything in front of my door step, so why get on the train, tram or bus when I can easily walk anywhere? Well, I don't want to turn into a city centre snob and before I became a city girl, I actually used to be a country girl, hard to believe right?!
Days out in Manchester are my favourite!
Nothing beats a Saturday strolling around town, however, if you fancy a more natural scenery, you might have to hop on the train. Leaving the city for a day or two also helps me to switch off.
A few weeks ago my best friend from Germany visited me and we decided to take a trip to Bramhall.  Starting in Manchester it was a quick 15 minute journey on the train, we arrived in a town that has a 'Hamptons' flair. Lovely bars and restaurants along the main road, people enjoying their brunch in the sun with oversized sunglasses, WAGS and other minor celebrities sipping their skinny lattes.
I also decided that it was time for a new haircut, colour and a fringe. Do you guys get the 'fringe-itch' as well? Every 16-18 months I feel the urge to get a fringe, about a week later I am fed up. And let's be honest, fringes in Manchester aren't ideal at all. I wonder why they call Chicago the windy city, Manchester definitely deserves that title.

The first time I went to Ed's must have been about 3 years ago. I instantly fell in love with Ed and Mike – two amazing human beings. 
Ever since I went dark again, I felt a bit boring. Having defined myself through my hair, it was time for a change. I needed a fringe and a bit of colour.
The best part about going to a salon, Prosecco obvs and getting your hair shampooed by a professional. A few hours and lots of fizz later, I looked fairly presentable!
Days out in Manchester are fun. It doesn't always have to be in the city centre, we have so many beautiful little towns around Greater Manchester/Cheshire.
Where do you like spending your days? Any plans for new hair dos?
Leave a comment
Comments will be approved before showing up.