Spa Treatments For Your Hair!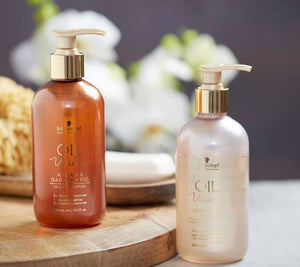 Rebalance Your Hair & Mind
Enter a new world of premium hair care powered by oils with Oil Ultime…

#TRUEBEAUTY is more than just a pleasing look. It is also the essence of a person's inner harmony radiating through their external shell. At Eds, we believe that ultimate beauty starts from within.

Featuring new aromatic Essential Oils, Oil Ultime will immerse you in a sensorial in-salon journey to rebalance hair and mind.


In-Salon Aroma Ceremony
Re-Balancing hair and mind for beauty from the inside out

Inspired by modern aromatherapy, Oil Ultime have developed precious Essential Oils featuring aromatic blends of calming Lavender & Jasmine and invigorating Ylang Ylang & Mandarin, which are known to improve physical and psychological well-being. They have been especially created for an indulging in-salon experience that helps you to escape your hectic daily routine.
Speak to your stylist and relax with us...
PRECIOUS PURIFIED OILS
Oil Ultime elevates 100% natural precious oils such as Argan, Marula, Rose and Barbary Fig Oil by blending them into a variety of weightless formulations designed to replenish and beautify all hair types. A multi-level purification process ensures that only the most precious components and nutrients of these pristine oils are implemented, leaving the hair soft and with a subtle yet radiant shine.


Ultimate Weightless Hair Feeling
The secret of the lightweight performance is the self-solubilising and self-evaporating oils, which ensures a powerful care performance without weighing down the hair.

The oils envelop the hair, filling porous areas in the hair structure. Any residual oil instantly evaporates or is easily washed out, leaving hair seductively soft with a brilliant, radiating shine.
In-Salon Treatment
We believe that ultimate beauty comes from within…

...it's the essence of a person's inner harmony. With Oil Ultime, hairdressers can help clients escape their hectic lives and indulge in a sensorial, in-salon Harmony Ceremony, beautifying both hair and mind. Depending on their mood, clients can choose from either a Relaxing Essential Oil or an Energising Essential Oil.

By combining the Essential Oils with the gently exfoliating Oil Ultime Oil-In-Scrub and a head, neck and shoulder massage, tension is reduced and the client relaxes. When the body is relaxed and in a good mood, it enters a 'charging mode' – not only is this highly beneficial for your health, but it creates a beauty that radiates from the inside out.

After the chosen aroma journey, the hair is cleansed and beautified with a suitable treatment. As a finishing touch, a complementary Oil Ultime Finishing Oil is selected to complete the service, leaving hair illuminated with radiant shine and sublime softness.
Only £17.50! 💆🏼‍♀️
ENJOY PREMIUM HAIR CARE AT HOME…
To enjoy beautiful hair on a daily basis, Oil Ultime offers a luxurious home care regime. Specifically designed for different hair types, these products are powered by 100% natural, purified oils, which continue to leave the hair soft, shiny and manageable.
Created to weightlessly cleanse and treat fine to medium hair types, this floral blend of Rose and Marula Oil helps to leave it beautifully soft and subtle.
Made with the precious blend of Argan and Barbary Fig Oil, this range delivers essential hydration and nourishment, whilst reducing frizz and creating amazing shine and a smooth touch.
Leave a comment
Comments will be approved before showing up.