Hero Hair-care from BC Bonacure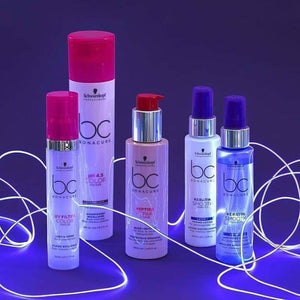 These four new hair-care heroes deliver technology through innovative formulas with distinctive textures and consistencies – all wrapped up in beautiful, eye-catching packaging! With one BC Bonacure hero dedicated to each hair-care need, salon clients can enjoy even more in-salon services and bespoke regimes at home with personalised product combinations. 

BC Bonacure UV Filter Color Freeze Liquid Shine (RRP £15.80/€18.20) - for coloured and highlighted hair
A weightless serum, formulated with the colour glossing trend in mind, which improves manageability and boosts vibrancy.
Provides instant shine
Improves manageability and helps to prevent hair breakage
Nourishes and reduces frizz
Protects against colour fading, mechanical and blow-dry damage 
BC Bonacure pH 4.5 Color Freeze Chocolate Micellar Shampoo (RRP £11.45/€13.20) - for coloured or natural brunette hair
A gentle, pigmented shampoo that intensifies and enhances brown bases; this completes the pigmented haircare assortment for BC Bonacure pH 4.5 Color Freeze.
Cleanses with effective, yet gentle Micellar Technology
Visually enhances brunette hair
Strengthens the hair structure
Helps to balance the pH levels to an optimal pH value of 4.5
BC Bonacure Keratin Smooth Duo Layering (RRP £30.10/€34.70) - for thick, coarse, unmanageable hair
A frizz-taming duo, formulated for thick and frizzy hair types with the layering trend in mind (where products with different benefits are layered in the right order to provide deep, intensive care), for lasting smoothness and increased manageability.
Smooths the hair's surface and tames frizz for up to 72 hours
Improves manageability
Protects from heat styling (up to 210°C)
Adds beautiful shine
BC Bonacure Peptide Repair Rescue Blow Defense (RRP £15.80/€18.20) - for damaged, distressed hair
A rich restorative strengthening cream, that fulfills the need for repairing medium to coarse hair whilst blow-drying, with added protection and increased manageability.
Instantly smooths hair and tames frizz
Restores and strengthens
Protects against mechanical damage
Seals the cuticles
Adds shine
Each BC Bonacure hero seamlessly fits into its respective range, to deliver beautiful hair to every client, in-salon and at home.
Full credit to this article belongs to the Good Salon Guide.  Please visit their site for more exciting reviews and articles on hair care.
Leave a comment
Comments will be approved before showing up.