Demi Colour vs Permanent Colour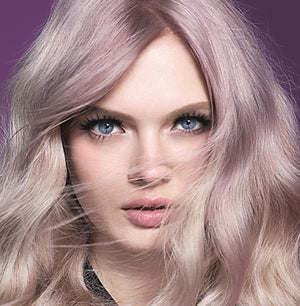 Have you ever wondered what is the difference between the two?  Or what your options are?
In a nutshell, demi-permanent colours are ammonia-free and a hybrid between semi-permanent colours that stain the outer surface of the hair and permanent colour that sits deep in the hair shaft.  A low percentage peroxide is used, generally 1.9%, to open the hair cuticle slightly to allow the smaller colour pigments into the outer core of the hair fibre.  Demi colours provide better depth and coverage over its predecessor semi-permanent.
What is so great about Demi-Permanent colours?
Non-committal; you can easily change your mind in the future as the colour will naturally fade out; typically 25 washes
No obvious root line; since the colour fades gradually revealing your natural colour thus blending with your regrowth. Perfect for those clients not so good to keep on top of maintaining their colour or keeping to a regular appointment plan.
Great for temporary low-lights for those with naturally light hair.
Ammonia-free thus not exposing the hair to swelling, resulting in hair in a healthier condition.
So what is not so great?
Only provides up to 70% coverage for grey/white hair
Intense colours are not as long lasting as permanent colours, e.g. reds
Colour only lasts up to 25 washes
The colour can wash-out sooner if the hair is porous; we would recommend a Fibre Clinix in-salon treatment first to repair this damage.
Here at Eds...
We use Igora Vibrance by Schwarzkopf Profressional.
Lasts up to 25 washes and is available in 68 perfectly matching shades. Thanks to the new Moisture Protecting Complex, it now offers up to 100% more INSTAShine plus increased hair protection.

The Moisture Protecting Complex with AquaXYL stabilises the hair's inner moisture level through a patented combination of sugar molecules and vitamins. It controls the circulation of water within the hair during the development process and secures the inner structure of each hair fibre.


Utilising 40% less alkalising agent (MEA), the alcohol-free formula enriched with Vitamin B5 and B6 acts as an anti-dehydration shield to create a clean canvas for an even colour result, providing outstanding vibrant shine and protection against hair breakage.
Maintaining Your Colour
We recommend that you use Schwarzkopf Professional BC Color Freeze to keep you hair colour looking vibrant and longer lasting with it's sulphate-free and cell perfector formulas.
Leave a comment
Comments will be approved before showing up.