10 Minute Colour!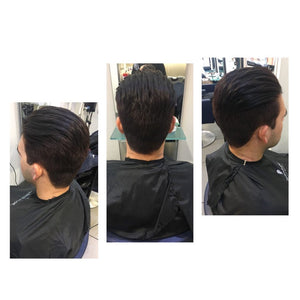 At Eds we have a unique colour range that only takes 10 minutes!  This is ideal for;
Gents
Hair-line and root touch-ups
Clients short on time, (on your lunch)
Last minute colour deciders
Choose from 26 stunning shades; these can be mixed by your stylist to produce other shades too.
Processing time complete in only 10 minutes
Perfect white hair coverage
Long-lasting colour retention & vibrancy
Perfect & even colour results
Stunning & long-lasting shine
How can this be true?
This revolutionary innovation by Schwarzkopf Professional uses amino acids (the buildings blocks of hair) to penetrate deep inside the hair cortex depositing the colour pigments while stabilising and fortifying the protein structure of the hair.
The primary amino acids are Arginin and Glycin, which are well known for their stabilizing and fortifying effect on the protein structure of the hair, making it shiny and manageable.
So in short...
You can have permanent colour in just 10 minutes with 100% coverage* leaving your hair in high definition, feeling conditioned, shiny and more manageable.  Endorsed and used by celebrity hair stylist Guy Tang!
 * selected shades only, your hair colourist will be able to advise you here
We recommend Schwarzkopf Professional BC Color Freeze to care and maintain your colour at home.
Leave a comment
Comments will be approved before showing up.